Electronics Sector Skills Council of India (ESSCI's) is a Not–for–Profit Organization, registered under the Indian Companies Act, 1956.The Council has been promoted by Five Associations i.e. CEAMA, ELCINA, IESA, IPCA, MAIT & ELCOMA with financial support by National Skill Development Corporation (NSDC).
Nation needs skill growth, Food Bill can't feed needy.
– Shri Narendra Damodardas Modi
Prime Minister of India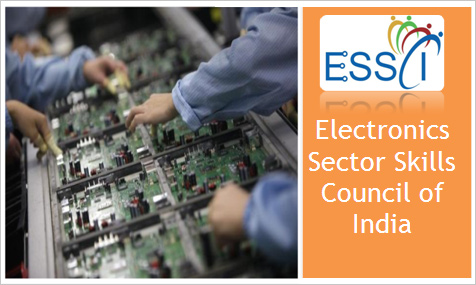 14 Sub – Sectors for Electronics as high potential for employment

Consumer Electronics
Automotive Electronics
IT Hardware
PCB Manufacturing
PCB Assembly
Active Components
Communication & Broadcasting
Solar Electronics
Passive Components
Medical Electronics
Industrial Electronics
LED Lighting
Strategic Electronics
PCB Design
Objective
ESSCI is focused on establishing an effective and efficient ecosystem for developing and imparting of outcome-oriented skills for the Electronics Systems, Design and Manufacturing (ESDM).
ESSCI is responsible for standardization, accreditation and certification processes in ESDM.
ESSCI's target is to train 5,000 trainees in FY14, 20,000 by FY2015 & 2 million on cumulative basis by 2022.

ESSCI has trained 6,500 trainees in Employment Oriented Courses.
Benefits of ESSCI to the Industry
Reduced in- house training cost due to industry ready personal is ready.
Up skilling for existing employee to boost the skills workforces & better productivity.
Serve as a platform for promoting CSR.
Reduced labour cost due to abundance availability of skilled manpower.
Higher standards in delivering quality of Service as per NOS and deliver a mechanism for industry relevant training
Council will be a nodal body that will understand the skill requirements & would ensure development & delivery of world class skills
ESSCI training provider will focus on skill sets such as leadership skills, time management skills, team building skills etc.
ESSCI Assessment partner will assess the students for theoretical & practical knowledge & ESSCI will certify the pass students.
LED Lighting Sector

Job Roles – LED Lighting

LED Light Design Engineer
LED Light Repair Technician
LED Light Design Validation Engineer
LED Luminaries Testing and Measurement Technician
LED Light Mechanical Assembly Operator
As per the latest LMIS study done by iMaCS, LED sector has been identified as an emerging sector in which there would be high employment opportunities in both service as well as manufacturing space in near future. Current market size in LED lighting is 3065 Crores & 10469 Crores for Lighting (Source ELCOMA) with 500 companies engaged in the same. Therefore, LED lighting has been added as an additional sub-sector in the electronics domain by our Council.